Mobile Magnetic Display,Customized Dry Erase, Customized Wall Mural and Retail Magnetic Graphic Displays
Ministry of Health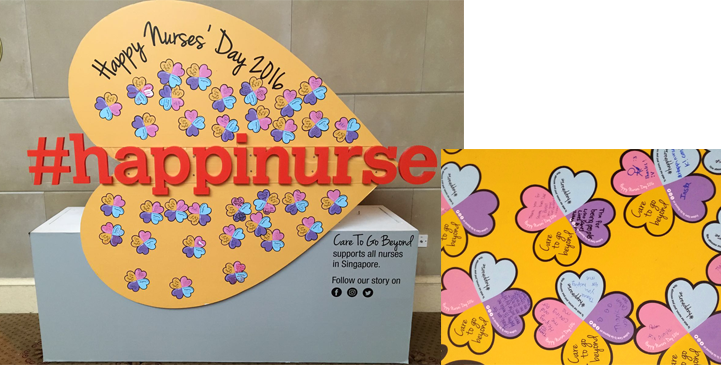 Mobile Magnetic Graphic Display (#happinurse)
We were asked to bid for a project to provide a mobile display to celebrate Nurses Day for the Ministry of Health. This project was challenging as we had to construct a display that would be sturdy enough to be moved across 30 hospitals and polyclinics across Singapore. It also had to be able to withstand wear and tear as the display graphic could be damaged during transportation. We proposed an innovative magnetic graphic display system using the US originated Visual Magnetics System. The heart shaped design was fixed with Magnetic Invisilock and a graphic display was placed over it. At the same time they wanted students to write messages to be placed on the display in appreciation of Nurses Day. Traditional post-its would have been messy. We recommended magnetic notes that was printed into a flower design and which was writeable and erasable. Our magnetic display survived the journey and we have been invited in 2017 to change the graphic display without reconstructing the entire set thereby reducing costs for the client .
---
Ministry of Education –Lakeside Primary School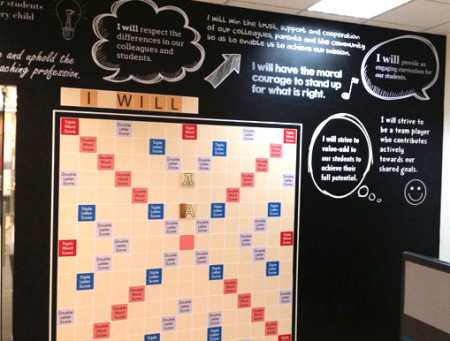 Customised Wall Mural
We tendered through the Singapore government website Gebiz for the design, supply and installation of a magnetic scrabble wall mural to be installed at Lakeside Primary School. The contract involved designing, supplying and installing of
1. Magnetic Scrabble Wall Mural and
2. Wooden Letter Blocks with Magnetic Backing for the Scrabble Wall at Staff Lounge for Lakeside Primary School.
With our innovative design, using the award winning Visual Magnetics Graphic Display System, we managed to win and got awarded the contract.
The advantages we highlighted are as follows:
It is relatively easier to install and easy to change versus conventional methods.
For subsequent change in graphics, it minimizes installation time ( can even be self installed after initial installation, saving time and reducing labour costs.
Graphics can be removed and reused easily in another place.
Allows for multi layering of graphics to give special effects and to change mood of the display.
Environmentally friendly and PVC free, the VM system can be reused unlike the use of current display boards which are thrown away when the graphic becomes outdated.
No screws or nails required thereby minimizing damage to the wall for the full VM system.
Allows for fixtures to be placed on the system.
---
Nanyang Academy of Fine Arts
We installed 23 fully customised magnetic whiteboards for Nanyang Academy of Fine Arts. The longest was a 8.4mx1.45m seamless whiteboard. The whiteboards were installed over 6 floors with a total length of about 65m. This was an interesting project for us as we had to customise for different sizes and also had to custom fit in with the interior designer works. We worked with Life Interior Design Pte Ltd to install the project within a week.
---
Audemars Piquet(AP)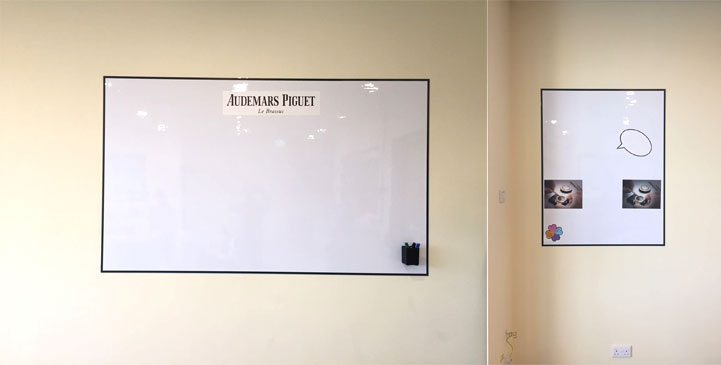 Customised Dry Erase Whiteboards
Customised Dry Erase and Retail Graphic Displays
After installing a customised dry erase for AP in its office, we were also asked to use the magnetic graphic display system for posters. As they expected to have frequent change outs our system suited them as they could easily change the graphic overlay on their own thereby saving on installation costs.
---
Residential Installations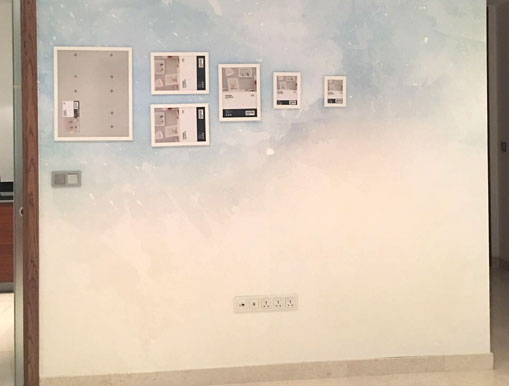 Volari, Balmoral Road
If you want to have your own wallpaper design or even a family photo on a wall, our visual magnetics system can do it for you as we use digital printing. No more worries about the wallpaper being out of stock or no longer in production. Just reprint the section and replace. No more messy stripping of wallpaper and scraping off the glue.
Our client wanted to have a wall where she could put up photo frames without damaging the wall. She also wanted the flexibility of inter- changing the wallpaper design. You can do up to 2-3 graphic overlays and simply roll it up to reveal another design below and roll it back on when you want it back.
---
Private homes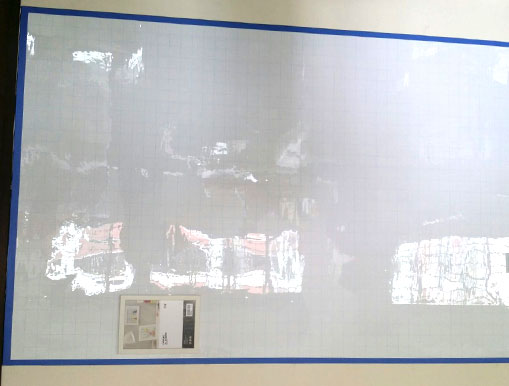 Whiteboard with gridlines
For those of us who have children, we know that children love to draw on walls.We want to encourage their creativity but not at the expense of our walls.To prevent damage, we have customised dry erase installations where we printed gridlines on magnetic dryerase(whiteboards) / You may ask what for? Practice writing Chinese characters ? Our system is printable, writable and non-ghosting.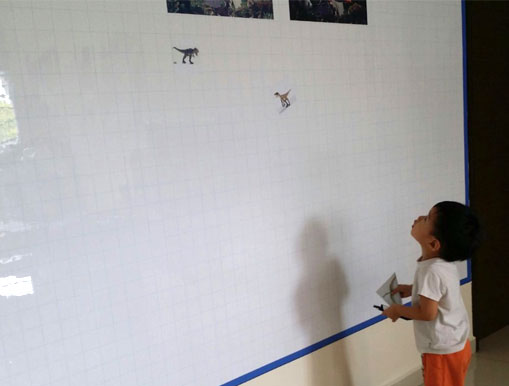 Dry Erase Board
We even designed and printed dinosaurs on the dryerase as the family wanted a customised border.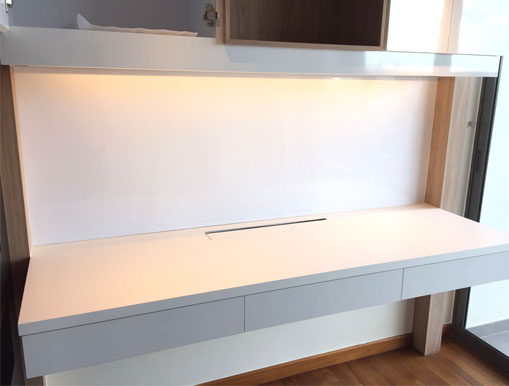 Study Table with Magnetic Whiteboard
Our system is so versatile that we even installed our magnetic dry erase into a study table. Your child can easily write his timetable on him and you can even write down messages for him!