MagnaMedia Support
Support
Frequently Asked Questions for Magnetic Receptive Print Media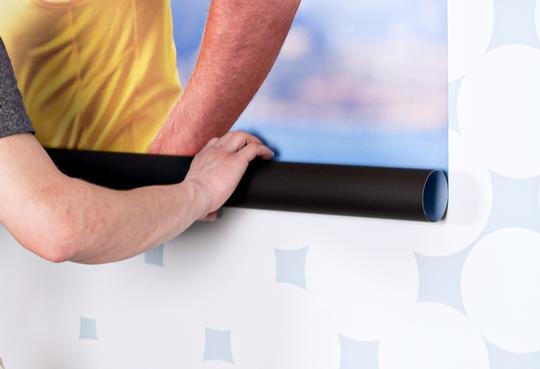 APPLICATION
1. What is MagnaMedia®?
Visual Magnetics MagnaMedia are high quality print media that all have our patented magnetic receptive coating on the reverse side in order to work flawlessly with the Visual Magnetics Graphic System™. MagnaMedia are available in a number of finishes and textures that work with a variety of print technologies.
2. Which MagnaMedia substrate do I choose?
Use the Visual Magnetics Product Line Card and the Printer Compatibility Chart as references to assist you through the process of choosing the most suitable MagnaMedia for your application. These reference guides include information on standard roll widths and matching the media to your printing platform. These documents can be found on the "Support" tab of this website.
3. Which InvisiLock® magnet should I use for my project?
The Visual Magnetics Graphic System™ may be applied to hard surface panels to create signs and displays or it may be applied directly to wall surfaces for large wall treatments and murals. Both applications require InvisiLock magnet that allows the graphic film to attract to the wall or panel.
Hard panel application: We recommend using single-sided 30-mil InvisiLock with a self-adhesive backer on hard panels. This is a peel-and-stick product that has a pressure sensitive adhesive and release liner applied to the back surface of the magnet. The adhesive will stick to metal, sealed wood, glass, plastic surfaces that are smooth, hard and free from moisture, oils or other surface contaminants. Always follow the substrate manufacturer's recommendation on surface preparation for a rubber-based pressure-sensitive adhesive. Available in standard-energy if planning only 1-2 graphic overlays, high-energy for 3-4 overlays and with Surface Protect™ if InvisiLock fixturing is planned.
Direct to Wall application:  We recommend using double-sided, InvisiLock with Visual Magnetics' ActiveWall® for applying the graphic system to larger wall surfaces (especially drywall). Double-sided InvisiLock is magnetic on both sides of the sheeting and is magnetically attracted to a wall that is painted with ActiveWall primer, eliminating the need for an adhesive. Available in high-energy version with and without Surface Protect.
4. What is ActiveWall®?
ActiveWall® Commercial Grade Micro-Iron® Latex Primer, ActiveWall primer or simply ActiveWall, is a special formulated base coat designed for use with the Visual Magnetics Graphics System. It has a high iron content and works especially well with our InvisiLock magnet. ActiveWall is not a magnetic paint that attracts metal objects but is, rather, magnetic receptive which allows InvisiLock magnet to attract to the painted wall surface.
5. Do I need to use InvisiLock magnet if I use the ActiveWall primer?
Yes, the ActiveWall primer is a non-toxic latex product with iron particles in it that turns your wall into a magnetic receptive surface. Please note that a wall that has ActiveWall will attract an InvisiLock magnet but is not magnetic so it will not attract the MagnaMedia without the layer of InvisiLock applied to the painted surface.
6. Can I paint over ActiveWall?
Yes, ActiveWall primer can be used as a basecoat for latex and a variety of oil-based paints without affecting its magnetic-receptive properties.
7. Does the Visual Magnetic Graphic System lose its magnetic properties over time?
No, neither the ActiveWall primer, nor the InvisiLock magnetic sheet, lose their magnetic properties over time.
8. Does it matter what direction I apply InvisiLock sheeting?
It does not matter which direction the InvisiLock sheeting is applied when used with MagnaMedia graphics.  We recommend applying tiles and/or sheeting so that the VM logos are facing out (showing) and all of the material is applied in the same direction (all logos facing up and/or going in the same direction).  If using InvisiLock magnetic sheeting to mount fixtures to the graphic wall then the direction is important and the section on Fixturing with InvisiLock should be referenced in our Tips and Tricks to a Trouble-Free Installation.
9. Can I apply additional layers of InvisiLock to my graphic wall?
Yes, you may add panels that have InvisiLock on the back to your graphic wall without negatively affecting the InvisiLock magnet that is on the wall. For best results (maximum strength), be sure that the magnetic sheeting is aligned in the same (horizontal or vertical) direction.
10. Can I paint InvisiLock magnet?
We do not recommend painting the InvisiLock magnet. When finishing an entire wall we recommend covering the magnet with printed MagnaMedia and then layering on additional graphics.
11. Can I use The Visual Magnetics Graphic System outdoors?
The Visual Magnetics Graphic System was designed and engineered for indoor applications. While the magnetic properties of the system are not affected, environmental factors such as ice, snow and high wind can physically separate the layers of the system and cause failure. There are ways to protect a graphic outdoors that have been successfully demonstrated. When in question, call your Visual Magnetics authorized sales or service representative to discuss the application and always try a prototype before launching a big project.
12. Can I use the Visual Magnetics Graphic System on a textured wall, or brick / block wall?
For best results, The Visual Magnetics Graphic System should be applied to a smooth hard wall surface as the MagnaMedia print film and InvisiLock magnet are smooth and flexible so a bumpy wall surface will show through to the final graphic surface. A heavily textured wall should be smoothed over with a filling compound and/or sanded smooth before applying the ActiveWall primer. Another option is to hang or mount commercially available rigid panels in the designated graphic areas prior to installation of the Graphic System or cover the wall surface with smooth paneling.
13. When do I use VM-POLYeight® vs. VM-POLYfive®?
VM-POLYeight and VM-POLYfive are both PET films but VM-POLYfive is thinner and more suitable for layering three layers or more of MagnaMedia graphics. If only one to three layers are being used then VM-POLYeight is recommended, as it is stiffer and easier to work with.
14. How many layers of MagnaMedia can I layer onto the InvisiLock magnet?
This depends on the MagnaMedia used. A rule of thumb is up to (3) layers for most films, up to (5) layers with POLYfive and up to (2) layers with VM fabrics.
PRINTING
15. Can I print Visual Magnetics on my flatbed printer, roll to roll or litho-press?
Yes, Visual Magnetics offers a wide variety of MagnaMedia substrates that provide options for a wide variety of print technologies. Use the Visual Magnetics Product Line Card and the Printer Compatibility Chart as references to assist you through the process of choosing the most suitable MagnaMedia for your particular application.
16. Why is my printer or press not reading Visual Magnetics MagnaMedia?
All Visual Magnetics' MagnaMedia have a black coating on the reverse side, which may not be detected by the printing device's optical sensor. To print on MagnaMedia you must turn off the optical sensor (usually in the RIP) or fool the sensor to think the printer is feeding a white substrate. When in question, call your authorized Visual Magnetics sales or service representative for troubleshooting tips and tricks.
17. Can printed MagnaMedia be laminated?
Yes, printed MagnaMedia can be laminated. Visual Magnetics recommends utilizing liquid or thin pliable cold laminates. A 1-mil to 2-mil cast vinyl laminate works great.
18. When should I laminate MagnaMedia?
It's always a good idea to laminate MagnaMedia graphics that are printed with a non-UV cured ink and are in a high traffic area where they may be handled, get dirty, or are exposed to the elements. If graphics will be used for multiple campaigns, lamination will help prevent scuffing and scratching when graphics are removed, rolled and stored in tubes.
19. Can I cut MagnaMedia with my roll cutter or flatbed cutter?
MagnaMedia can be cut using a roll printer/cutter or flatbed cutter using a sharp blade and slowing down the feed rate. We recommend using a high angle blade (such as a 68 degree or higher) to minimize the amount of blade in the media. VM-POLYmatte® is especially susceptible to (print coating) chipping; lamination before cutting will help prevent this problem.
INSTALLATION
20. Can anyone install the Visual Magnetics Graphic System™?
Just about anyone handy with a paint-roller and some basic measuring and cutting tools can install the graphic system. Once the system is installed, new graphic panels can easily be rolled out and will lay flat without the use of special tools or techniques.
21. What is the proper method to apply / install components of the Visual Magnetics Graphic System?
See our Tips & Tricks for a Trouble-Free Installation page on this website.
22. When does it make sense to paint the entire wall with the ActiveWall primer versus only that part of the wall to be covered by graphics?
Sections of a wall may be activated with ActiveWall primer but painting the entire wall increases the flexibility of the graphic system allowing you to move magnet and graphics freely across the wall surface.
23. What wall surfaces will accept the ActiveWall primer?
ActiveWall Commercial Grade Micro-Iron Latex Primer is a latex-based base coat that can be applied to drywall, plaster and primed wood, metal and plastic surfaces. As with any paint product, ensure that the surface is properly prepared and clean of dust, debris and contaminants that could prevent adhesion of the ActiveWall or proper drying. If applying ActiveWall to a painted wall, be sure that the existing paint is completely dried and cured and is adhered to the wall before applying ActiveWall primer.
24. How smooth does the wall surface need to be?
To achieve optimum results and ensure that the graphics lay flat, it is recommended to remove all protruding objects from the wall including nails, screws and tacks. If holes have been filled, sand the filler down so that the entire wall surface is smooth and even prior to applying the ActiveWall Primer. A level-5 surface is optimal.
25. Is it necessary to fill small holes in the wall before applying the ActiveWall primer?
Large holes should be filled with filler and sanded smooth to the wall. The system will span small holes and cracks without detection but will not hide a protrusion or debris left on the wall surface.
26. What is the coverage of the ActiveWall primer?
1 gallon of the ActiveWall Primer covers approximately 100 sq./ft. of wall surface. Exceeding this coverage area per gallon is not recommended as it will reduce the magnetic attraction of the system.
27. How much time is needed for ActiveWall primer to dry?
The ActiveWall magnetic-receptive primer is a high solids primer and therefore dries very quickly. Drying time will vary with temperature and humidity conditions. As a general guideline, allow the primer to dry to the touch (approximately 30-60 min) between coats and then 2 hours before applying a latex topcoat or at least 24 hours before applying an oil-based topcoat. Be sure to follow the instructions printed on the ActiveWall primer label.
28. Is there a preferred paint type for applying color over the ActiveWall primer?
Visual Magnetics recommends using latex based paint for applying color over the ActiveWall primer. Oil based paints can also be applied. A white primer should be applied for optimum coverage of the ActiveWall primer especially when the final color is yellow or red.
THE VISUAL MAGNETICS GRAPHIC SYSTEM SOLUTION
29. Who are the biggest VMGS users?
The Visual Magnetics Graphic System™ is ideal for any account that frequently changes out their graphic messaging and plan these graphic change-outs as part of an annual marketing/advertising plan.
30. Can The Visual Magnetics Graphics System™ save users money?
Yes, the VMGS can save 30% – 50% annually compared to graphics programs currently printed on board products and/or vinyl. It's best to compare the annual cost of the program and not just a sq./ft. comparison. Be sure to check out our Cost Comparison data sheet or call your sales representative for more information.
31. Can other magnetic sheeting be used instead of the InvisiLock magnet sheet?
The InvisiLock magnetic sheeting is a component of the Visual Magnetics Graphic System™ and is specifically designed to deliver optimum performance with Visual Magnetics ActiveWall primer and Visual Magnetics MagnaMedia. Visual Magnetics will not guarantee the performance of the system if an alternate brand of magnet is used.
32. Can rolls of InvisiLock be shipped via airfreight or carried on an airplane?
InvisiLock magnet is a ferrite-based magnet and poses no health or safety issues. It has a very short magnetic field detectable only near the surface of the sheeting. The IATA (International Air Transportation Association) approves this product for transporting on airplanes.
33. Is there anything that can negatively affect the strength of InvisiLock magnet sheeting?
InvisiLock magnet sheeting is robust and will not lose magnetic strength over time. It can, however, be altered and lose some of its magnetic strength where high-energy neodymium (rare earth) magnets are applied to the surface of the sheet.
34. Does InvisiLock sheeting interfere with electronic equipment or cell phones?
No, InvisiLock sheeting does not interfere with electronic equipment and has no impact on cell phone reception.
35. Does InvisiLock sheeting interfere with card strips?
InvisiLock is a magnet and all magnets will adversely affect the magnetic strips found on credit cards, ATM cards and hotel room card keys if contact is made. Always avoid direct contact between InvisiLock and all cards that contain magnetic strips.
36. How does the MagnaMedia seam for large mural graphics?
The thin profile of the MagnaMedia enables large murals to be seamed very easily by overlapping the panels by ½"- 1". Of course if a butt-seam is desired then the panels can be double-cut on the wall but care should be taken not to cut into the InvisiLock magnet.
37. What is "fixturing"?
We use the term "fixturing" when we apply InvisiLock to the back of a hard panel sign or small shelf and then stick it to an Visual Magnetics graphic wall so that it is secured magnetically to the graphic wall. The InvisiLock that is used in the graphic wall (behind the MagnaMedia) graphic will attract and hold a fixture that has InvisiLock sheeting applied to it. If interested in fixturing with the Visual Magnetics Graphic System then please refer to the section on Fixturing with InvisiLock in our Tips & Tricks for a Trouble-Free Installation.
38. Can other magnetic sheeting be used over the printed MagnaMedia and with the Visual Magnetics Graphic System?
InvisiLock sheeting is made to work with the VMGS and can layer onto the graphics system with no adverse affects. Using other magnetic sheeting over the VMGS may not work and may actually alter and harm the InvisiLock used in the VMGS.
39. What are some key advantages the VMGS has over printable magnet?
MagnaMedia is a higher quality print film that is available in wider widths and can be printed on latex and solvent printers. MagnaMedia is lighter weight than magnet and can be layered to look seamless which offers more versatility. MagnaMedia also lays flat on its magnetic backer without problems with roll-set.
40. Does the Visual Magnetics Graphic System have a warranty?
Visual Magnetics stands by the quality of all of its products to work as advertised when applied and installed as directed. Contact your Visual Magnetics sales representative for details about our product warranty.
41. What do I do if I my question was not addressed here?
Please contact a Visual Magnetics Direct Sales Channel representative or a Visual Magnetics Product Specialist.